2020 hasn't been the start to the new decade everyone hoped for, but among thumb twiddling, boredom of lockdown so far, one true hero has emerged: the great British pub quiz.
Established in the 1970s to get more punters into pubs on quieter nights, the humble pub quiz has taken on a whole new meaning during quarantine. It became nothing short of a virtual phenomenon, and in turn, so did we. In the face of pub closures, we pivoted from a simple digital pub quiz service to a fully-fledged virtual quiz app, doing our bit to keep the masses entertained throughout lockdown.
With the demand for home-based quizzes currently at an all-time high, here at KwizzBit we've compiled the best of our knowledge on how to run a virtual quiz using your smartphone into one handy virtual quizzing guide, so that you can confidently host your own quiz. In this virtual quizzing guide, we'll:
• tell you what a virtual quiz is
• break down the different technologies involved
• explain how to host your own virtual quiz from your smartphone
So, without further ado, let's get quizzing!
What is a Mobile Virtual Quiz?
Just in case you've been living under a rock these last few months (hey, we don't blame you), a virtual quiz takes the traditional pub quiz format and blends it together with online technology, enabling you to host trivia nights from the comfort of your couch with friends all across the globe. Without having to leave the safety of your own home, and enabling some much needed socialisation in a relatively 'normal' environment, online quizzing has been a Godsend throughout the COVID-19 pandemic, especially in the height of quarantine.
Chances are, you've probably grabbed your trusty pen and paper and joined in at least a dozen quizzes already since March, whether you've played with friends and family or joined viral sensations like Jay's Virtual Pub Quiz who broke Guinness World Records raising money for NHS Charities. A virtual smartphone quiz, however, replaces pens and paper with – yep, you guessed it – your mobile phone. Combining the core elements of a traditional pub quiz with some exciting tech features creates a truly unique and fun quizzing experience. For instance, KwizzBit is a speed-based quiz which not only means faster answers are rewarded with more points, but also stops people from being able to cheat using Google. It also instantly calculates scores and inserts them into live leader boards that track how well you're doing as you play.
By utilising the virtual quiz app, alongside existing online video communication technology, you can both host and play interactive quizzes in real-time.
Getting Set Up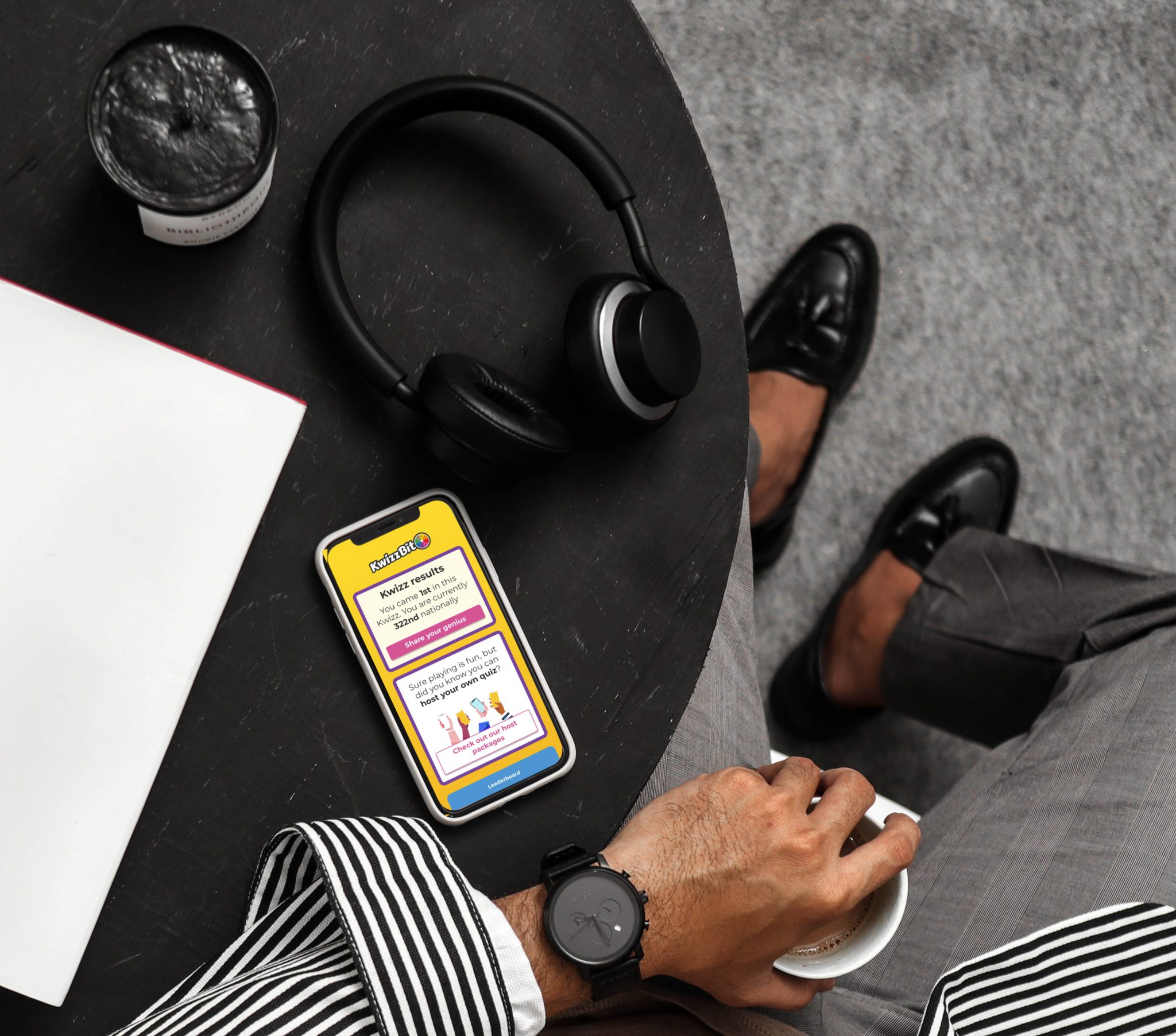 If just hearing the word 'technology' causes your heart to skip a beat, you'll be relieved to hear that it's actually really, really ridiculously easy to set up your virtual quizzing software. This part of our virtual quizzing guide will explain the different technologies you can pick from to host your quiz with.
To become a host of your own personal trivia gameshow, you'll need 2 things:
• a video communication platform to host from
• access to a virtual quiz app, like KwizzBit, to host with.
There are 2 types of video communication platforms you can use; live streaming or video conferencing. Which one you pick will depend on the sort of quiz you plan to host.
Live Video Streaming
If you're planning on hosting brand activations, large events or quizzes for your local charity or community with more than 100 participants, live streaming is the method for you.
Live streaming applications, like YouTube and Twitch, are one-directional communication tools that allow you to broadcast events across the internet without having to directly engage with your viewers, except from via a live chat box. They're designed for streaming to large audiences and have big-time viewer capacity behind them. Twitch's highest single viewer count on a stream was 1.1 million, whilst YouTube had 8 million people watching Felix Baumgartner's 'edge of space' skydive in 2012. So the sky's the limit.
For the more tech savvy YouTuber or anyone who fancies using Twitch at all, you'll benefit from a video encoder like Open Broadcaster Software (OBS). It's a free, open source software programme which allows you to customise your live stream with audio, backgrounds, logos, live feeds from other devices and much, much more to create an immersive and professional looking experience. Setting up OBS is as simple as installing the software and linking it to your streaming platform. However, if all this talk of encoders is confusing your brain, it's important to remember that YouTube also supports streaming simply using your webcam which still does a top-notch job.
Video Conferencing Software
Video conferencing tools on the other hand are two-way communication platforms designed for face-to-face conversation between any number of participants, who are permitted to join using a pin code or personal invitation. As a result, they're perfect for a more intimate quizzing experience, suitable for friends, family members or smaller communities and events.
Popular video conferencing platforms and their maximum participant numbers include:
• Skype (50)
• Facebook Rooms (50)
• Zoom (100).
Whilst these tools don't have the customisation power of OBS, they do allow you to screen-share, which is perfect for displaying questions and live leader boards on-screen if you log in to your virtual quiz app on the same device.
Scheduling and Inviting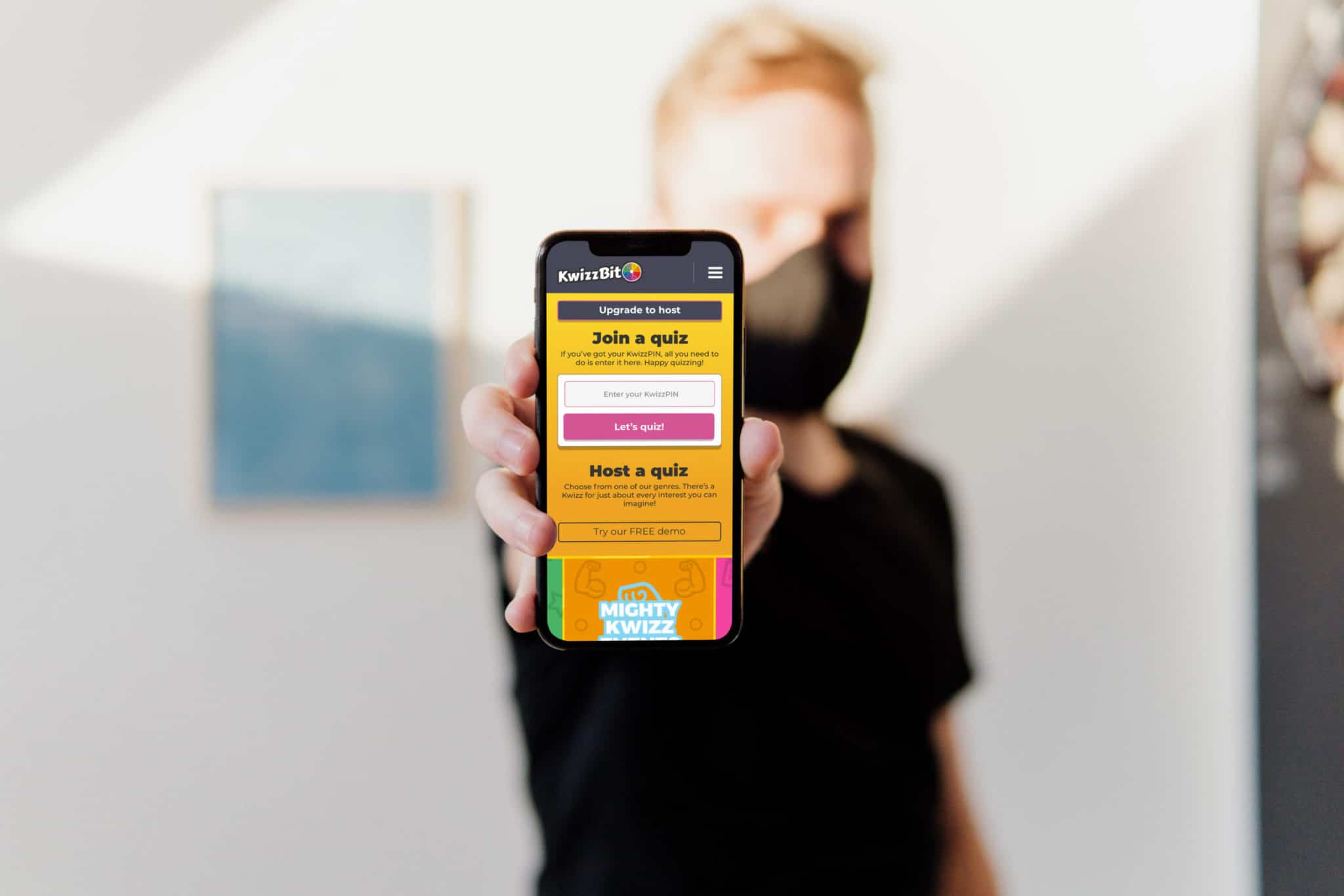 Whilst how you schedule will differ depending on your chosen streaming platform, there are a few things you will always need to keep in mind:
• Setting a time and date
• Inviting to play
• Sending clear joining instructions.
Time and Date
There is no hard and fast rule on how far in advance you should plan to host your virtual quiz (however making sure you set a time and date is a rule in itself!). When setting your time and date, make sure to think about your chosen audience. If it's for a charity quiz night or a brand activation, you'll want time to promote your event to maximise your player numbers. Alternatively, if it's a more informal event to stay in touch with family or friends, something as simple as a text on the day might suffice!
Invite to Play
Once again, how you invite will depend on your audience and purpose. For live streaming large events and branding exercises, think of 'inviting' as 'marketing'. You can schedule an event on your YouTube or Twitch channel, which will be visible to your subscribers as well as anyone with the URL. If you work in marketing or events, I'm sure your brain is doing cartwheels just thinking of all the ways you can leverage social media to reach your audience. But, if you're unfamiliar with promoting on social media, check out Eventbrite's guide to promoting events on social media in 12 steps.
Video conferencing tools work differently. They're encrypted, which makes them all the better for personal quizzing, however this also means that they require a participant to be invited or have the joining code to enter the feed. Luckily, these are built into each system and are very easy to use. Zoom and Skype, for example, allow you to send email invites or copy the URL to paste straight into chats, whilst Facebook Rooms makes it even easier by allowing you to invite people straight from your friends list.
Joining Instructions
With a traditional virtual quiz, you'd grab your pen, paper and join the stream. However, a smartphone-based quiz platform that beams questions to devices, automatically calculates scores and puts them into a live leader board doesn't work by magic. Every player must somehow connect to your virtual quiz app. KwizzBit, for example, is a cloud-based solution which uses the internet to connect players to a quiz with a unique play pin. A play pin is randomly generated when you select a quiz from our dashboard. Players are then required to go to kwbit.com and enter the pin and a team name to be entered into the game.
Remember, it's vital to communicate clear joining instructions to your players, whether that's by yourself on the live stream, in the chat box or beforehand using social media or email.
Think virtual quizzing sounds like fun? Learn more about how KwizzBit works, or sign up for a player account to be able to host our free demo quiz. Once you're in, simply pick a cracking quiz and get streaming!