A gameshow for your venue
Studio quality live quiz events streamed directly to you give you your very own quiz gameshow experience. Watch the stream, play the quiz, win the prizes!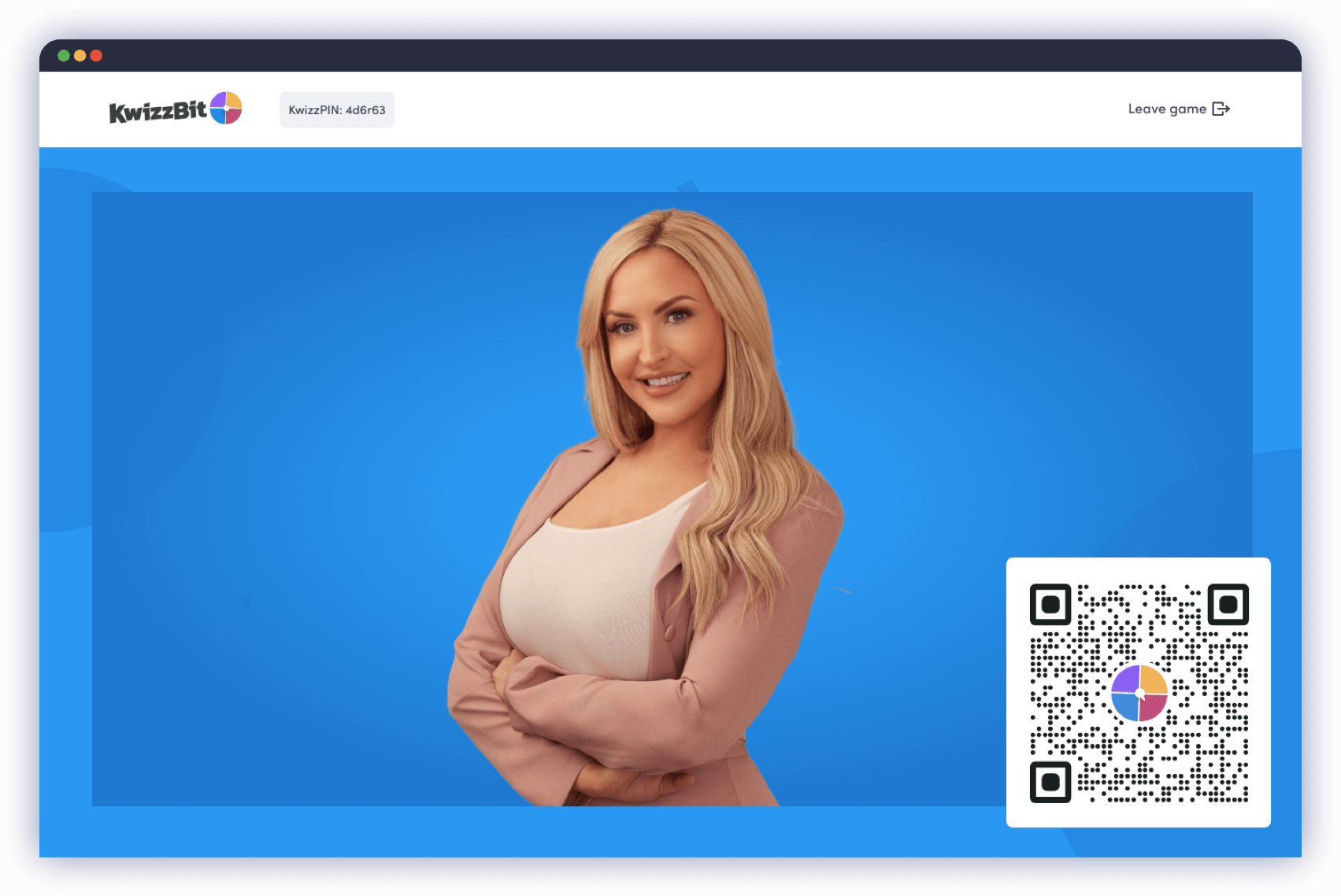 Streamed live from our studio, directly to you
Live quiz events created and managed by KwizzBit, broadcast nationally using state-of-the-art streaming technology. No lag, no pauses, and no effort on your end for a premium quizzing experience. When we say live, we mean live!
Plug and play convenience
A streamlined setup brings gameshow quality directly to your venue at the push of a button. Start the quiz on a smart device, connect to the big screens via HDMI or Bluetooth, and watch an immersive trivia experience unfold before your eyes.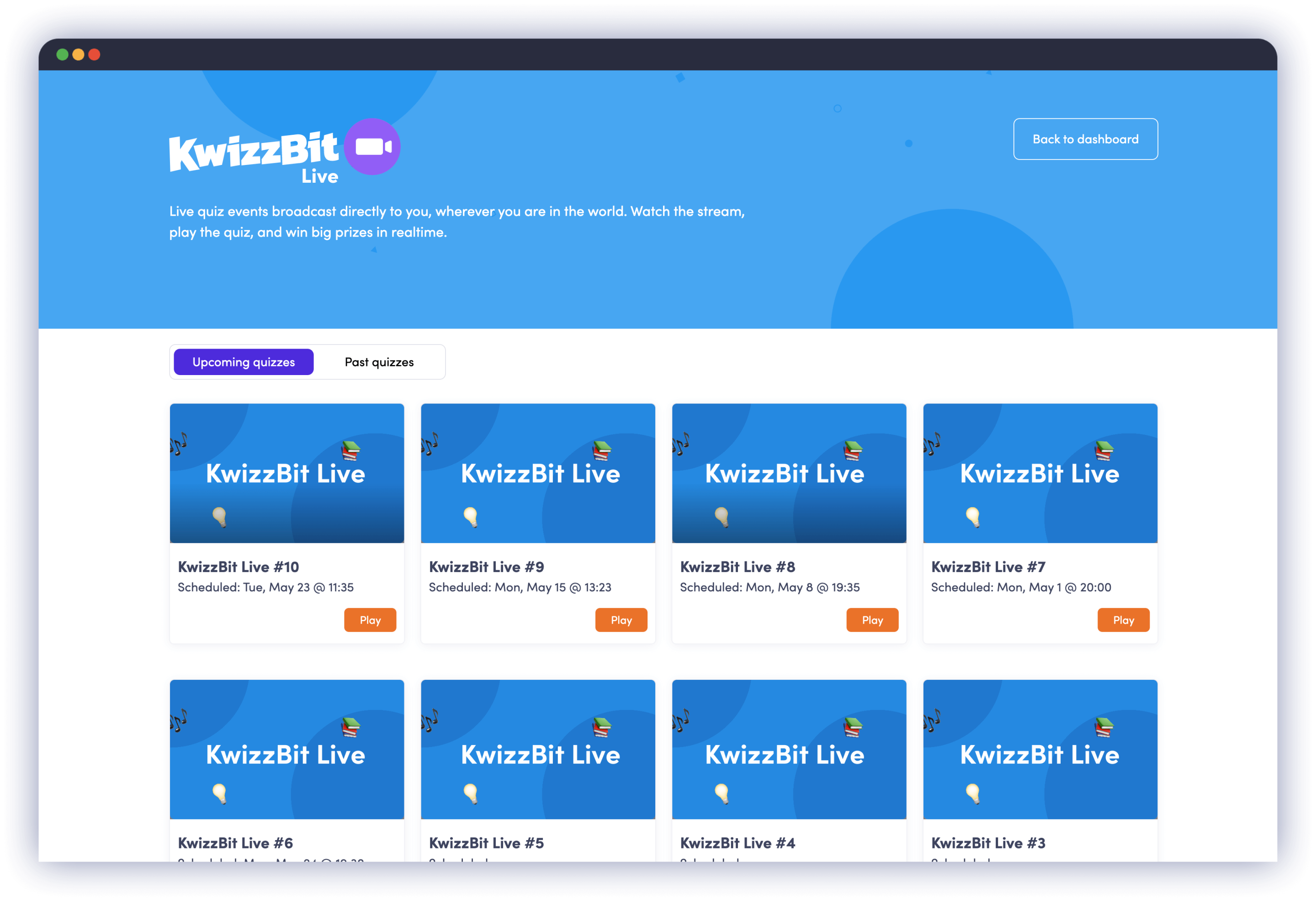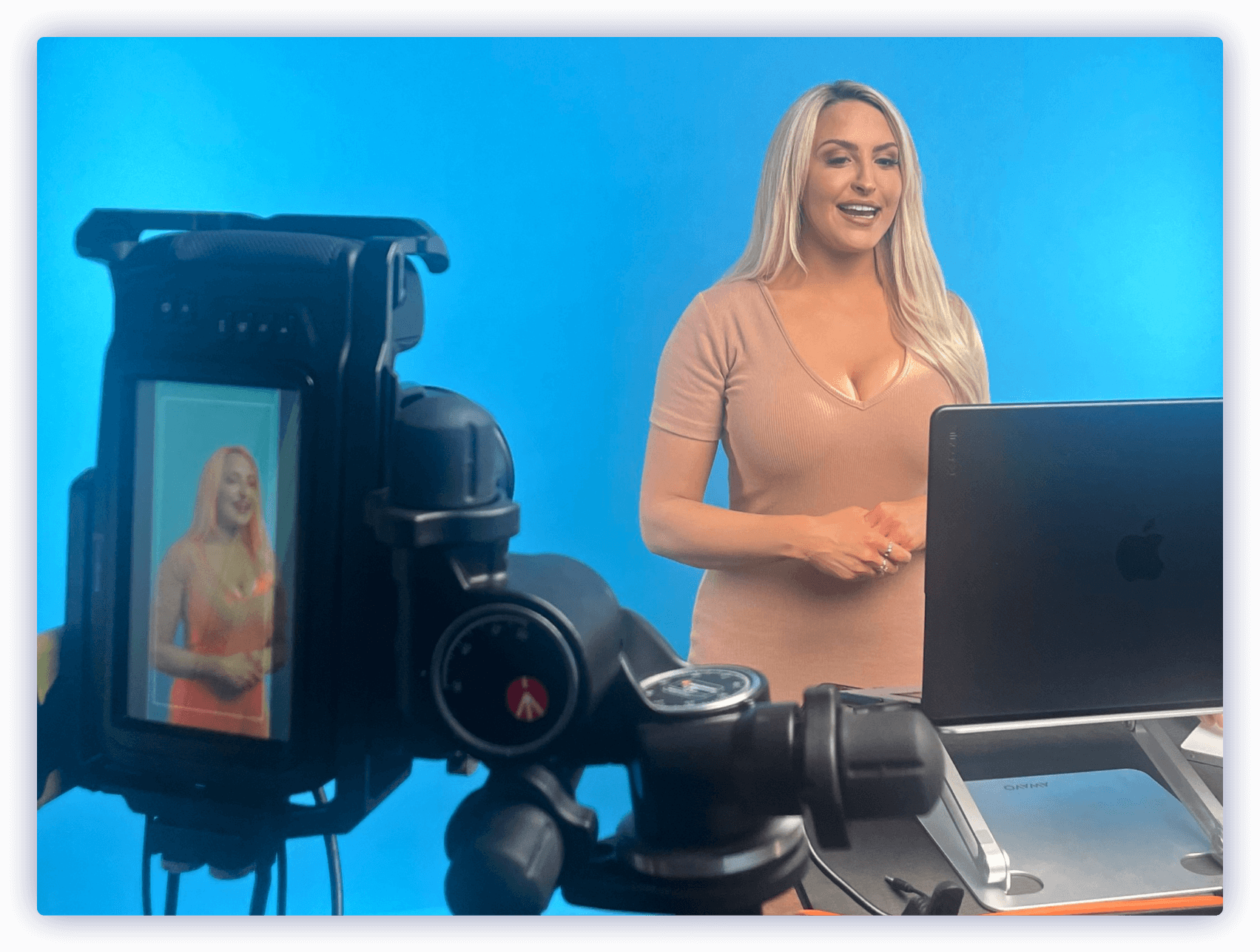 Studio quality & professional hosting
Original premium quizzing experience broadcast from our tailormade studio, including professional hosts and familiar faces from TV and radio. Our charismatic hosts are experts in captivating and entertaining audiences to maximise the atmosphere in your venue.
Play locally, compete nationally
Local leaderboards decide the best quizzers in your venue. National leaderboards find the best quizzers in the country. All scores from participating players are recorded in dual leaderboards to foster friendly competition between venues. You could be hiding the next quiz champion!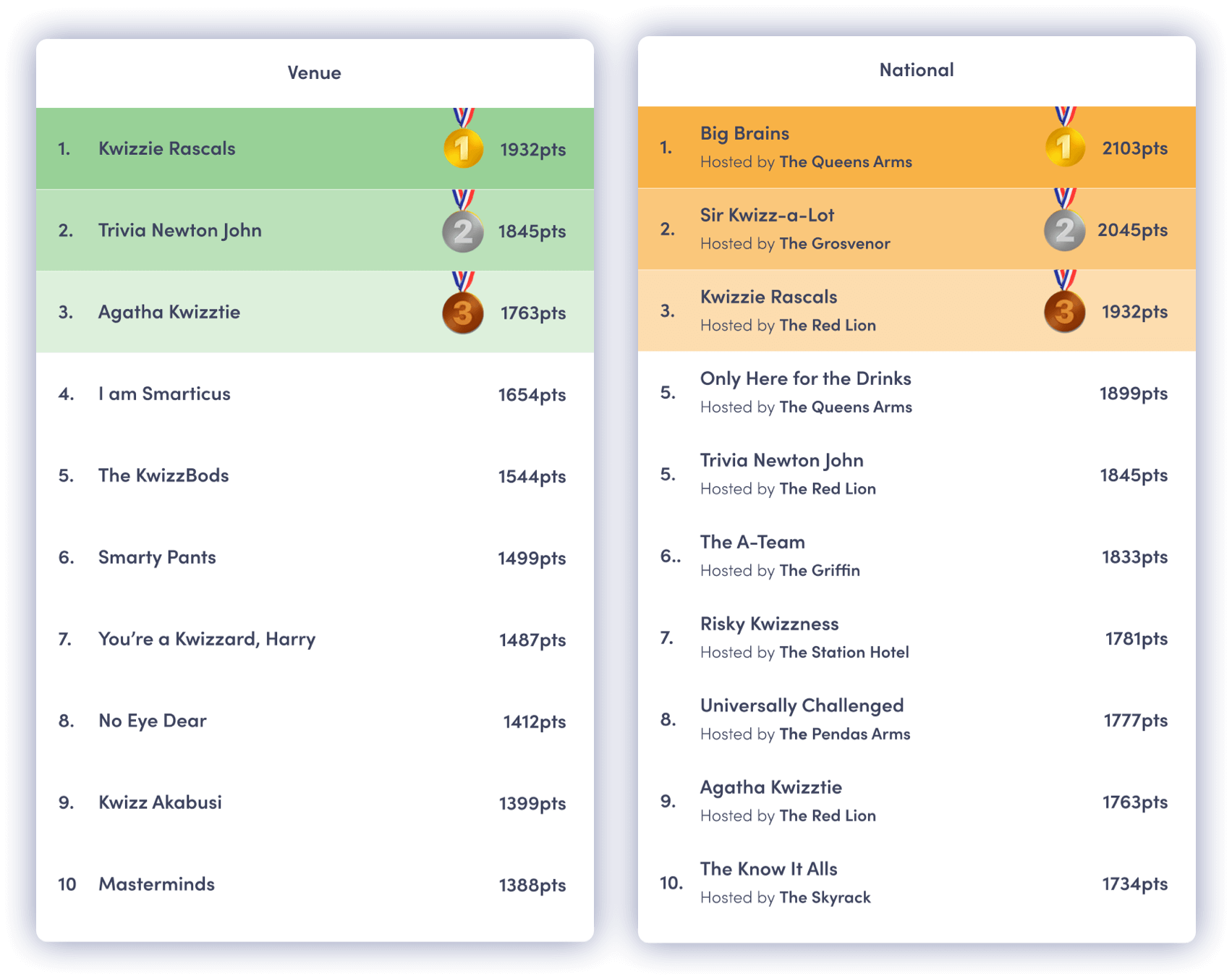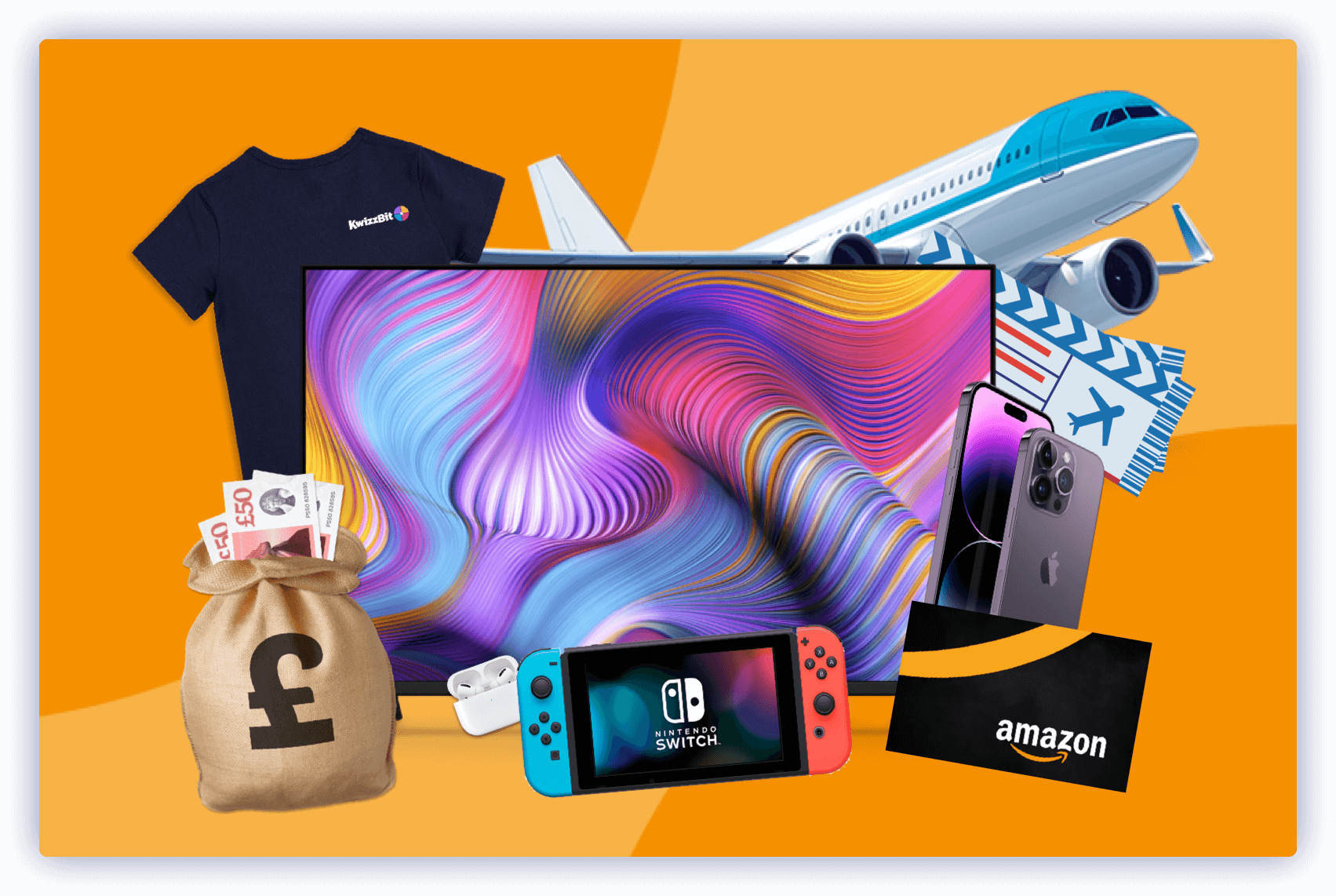 High stakes, high rewards
Regular prize giveaways on every quiz to create demand, incentivise participation, and create friendly competition. Stick a Top 10 finish on the national leaderboard to win one of the ever-changing prizes.
Create your free account and get quizzing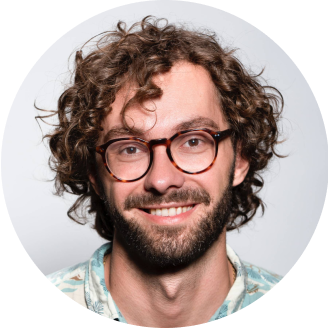 Build, host and play with up to 100,000 people
Full access to more than 5000 ready made quizzes
100% unGoogleable gameplay
Real time scoring and leaderboards
Simple, easy to use platform
Built-in live video streaming
Simon Johns
Fundraiser Sands UK
We have played quizzes virtually to help us raise funds for charity during the lockdown. The system is fun, very simple to use and has helped us raise £1045 within a month.
Sam Tasker Grindley
Accountant, GBAC
Having played KwizzBit in the pub or at charity events many times, I decided to use it for a GDPR training session at my firm of accountants. It transformed what could be an incredibly dull topic into something interesting and engaging. My colleagues were talking about the training session for days after!
Gemma Fisher
Publican, The Grosvenor
KwizzBit has been a huge success in my pub, making our quiz nights exciting again. It's so easy to use, it's exceptional value for money and the support from the team is second to none.
Dave Aldred
Champs Sports Bar & Grill
I chose KwizzBit as I was looking for an interactive quiz to remove the headache of constantly writing quizzes and printing out question sheets. More time can now be spent interacting with customers as opposed to going through sheets of paper. We regularly have in excess of 30 teams, with recent weeks seeing 50+ teams. Thanks to the quiz we see an average of £2000 a week in sales.
Joanne Lear
Play at Home Quizzer
KwizzBit is excellent. Using Zoom we've been able to play against our 3 grown up children who we can't see at the moment because of the lockdown. Thanks for the fun!
Rebecca Nolan
HR Executive, BAE Systems
We used the platform for a corporate away day where we wanted employees to think a little differently and move away from your standard death-by-PowerPoint session. They tailored the service to meet our requirements with ease and the platform is really user friendly. Excellent experience!