Simple, intuitive online quiz maker
Let's face it.
Humans are obsessed with quizzing.
Whether we're at work, school or simply hanging out with friends, we're never far away from testing someone's knowledge with a bit of trivia.
Why else would you be here right now?
That's why we built a quiz editor that enables you to enjoy KwizzBit's outrageously fun smartphone quizzing with your audience to:
Increase memory retention
Create personalised experiences
What can I do with KwizzBit?
Master in minutes
Quizzing isn't complicated, so why are so many quiz editors are difficult to use? Our online quiz maker is designed with simplicity in mind so anyone can master it regardless of age or technical ability. Making your own quizzes has never been easier!
Personalise trivia for your audience
Training a new employee? Teaching a class? Raising money for a cause? Utilising an online quiz maker enables you to tailor your message in an engaging, interactive manner to those who need to know it.
Play exciting speed-based quizzing
Enjoy a 21st century quiz experience that's fast, fun and very exciting, straight from your mobile phone. With innovative question types, automatic scoring and real-time leaderboards, it's guaranteed to unleash your competitive side.
Try making custom quizzes for…
Work
Meetings
Presentations
Staff training
Fundraisers
Charity
Schools
Societies
Pubs
Weekly quizzes
Themed events
Private bookings
Home
Friends and family
Birthdays
Weddings
5 easy steps to make your own quiz
Forget complicated quiz editors. Master our user-friendly online quiz maker in a matter of minutes. Literally.
Then you can spend more time wowing your audience with your custom quizzes.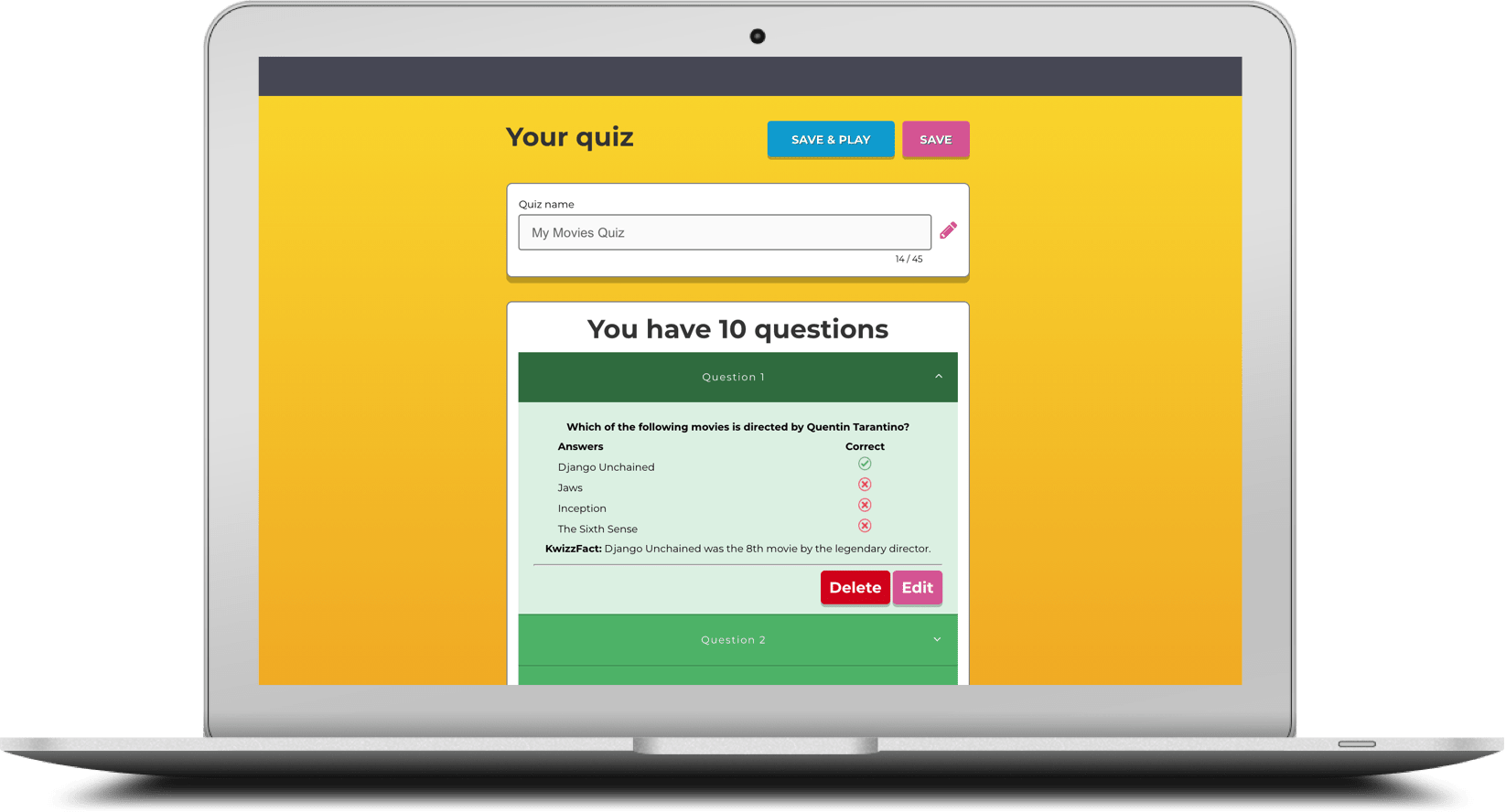 Sam Tasker-Grindley
Accountant, GBAC Ltd
"I love Kwizzbit! Having played Kwizzbit in a pub or at charity events many times, I decided to use it for a GDPR training session at my firm of accountants. It transformed what could be an incredibly dull topic into something interesting and engaging. My colleagues were talking about the training session for days after!"

Zainah Khan
Managing Director, Chakra Corporate
"Chakra introduced KwizzBit into its training delivery in October 2017 to bring something fresh and energising into our training courses. Our participant feedback has been extremely positive; the experience is guaranteed to bring out the competitive edge in people, whilst reinforcing what they've just learned. Every training session is guaranteed to finish on a high!"

Gemma Fisher
Publican, The Grosvenor
"KwizzBit has been a huge success in my pub, making our quiz nights exciting again. It's so easy to use, it's exceptional value for money and the support from the team is second to none."

Joanne Lear
Play at Home Quizzer
"KwizzBit is excellent. Using Zoom we've been able to play against our 3 grown-up children who we can't see at the moment because of the lockdown. Thanks for the fun!"

Zoe Baggott
Fundraising Manager, Acorns Children's Hospice
"KwizzBit is fantastic. We hosted a series of virtual quiz events throughout quarantine as an alternative method of fundraising. It worked perfectly, was a lot of fun for everyone, and we managed to raise over £3,000 which was crucial to help us continue providing the care we do. Thank you, KwizzBit!"