Coronavirus, social distancing and a nationwide lockdown has challenged charities across the UK to find new ways to raise money virtually.
With easy access to live video streaming platforms and social media, fundraisers have risen to the challenge. Not only have they managed to support the charities they love this year, they've also established virtual events as a permanent fixture in their fundraising campaigns for the future.
The benefits of these newfound ways to fundraise became clear as 99-year old Captain Tom raised £32m for NHS Charities by doing 100 laps of his garden. They're cheaper to run, easier to organise and there are no limits to what you can achieve.
All you really need is access to a laptop, a basic understanding of online technology and a donations page. If you don't have the latter set up, check out Charity Digital's guide to fundraising platforms.
All set? Here are 9 proven ways to raise money virtually.
1. Online Auction
Selling your old unwanted possessions is a classic way to raise money for charity, and it's easy to organise online. Similarly, you can contact local and partner businesses to see if they're willing to gift you something to auction off.
There are a number of sites designed for hosting live virtual auction events. They allow fundraisers to manage attendees, list items and monitor donations from mobile bidders instantly. For more information, check out this review of charity auction sites!
2. Gaming Night
Gaming has become a hugely popular way to fundraise in recent years, with gamers on the live streaming platform Twitch raising £150m for charity. Given its revenue generating power, it only makes sense for you to get in on the action.
There are a few ways you can do this. Host your own Twitch channel to live stream yourself playing popular games like Fortnite. Or, partner with existing streamers to support your cause to their audience. You can integrate fundraising pages directly to their channel.
Alternatively, you can set up an online tournament with your members and have them face off against each other. Charge a donation fee for entering and put a small prize up for the winner. FIFA always works here!
3. Virtual Charity Quiz
Virtual quiz events have emerged as a staple way to fundraise in 2020. Pub quizzing has effortlessly adapted to the online world by leveraging social media and live video technologies.
Here at KwizzBit, we've created an interactive quiz service which allows charities to host and play virtual quiz events on your smartphone. KwizzBit combines traditional pub quiz elements with everyday mobile technology to create a unique quizzing experience that not only saves hours of time organising quiz events but has successfully worked with charities like Sands UK to raise vital funds during lockdown.
With thousands of readymade quizzes, multiple question types, instant scoring, leader board generation, and its easy integration with live video tools it's an exciting yet surprisingly simple way to raise money virtually.
4. Offer a Class
Do you have any hobbies or hidden talents? If so, they can be used to provide virtual lessons to people wanting to learn new skills.
Tools like Zoom make it easy for you to open up a virtual classroom where you can host classes on anything from cooking, drawing or in Battersea Dogs Home's case, puppy training. People lead busy lives and can struggle to find the time to enrol in a class, so it can be a convenient way for them to pick up a new hobby. What skills do you have?
5. Virtual Concert
Experiencing live music is something we all miss dearly. However, online concerts have emerged as a truly exciting virtual event, that can help you raise plenty of cash.
Global Citizen raised almost $128m during lockdown with a star-studded virtual concert with performances from musical royalty like Lady Gaga and The Rolling Stones. You might not get Mick Jagger, but you can organise a fundraising event with local musicians that is guaranteed to be just as fun!
6. Virtual Movie Night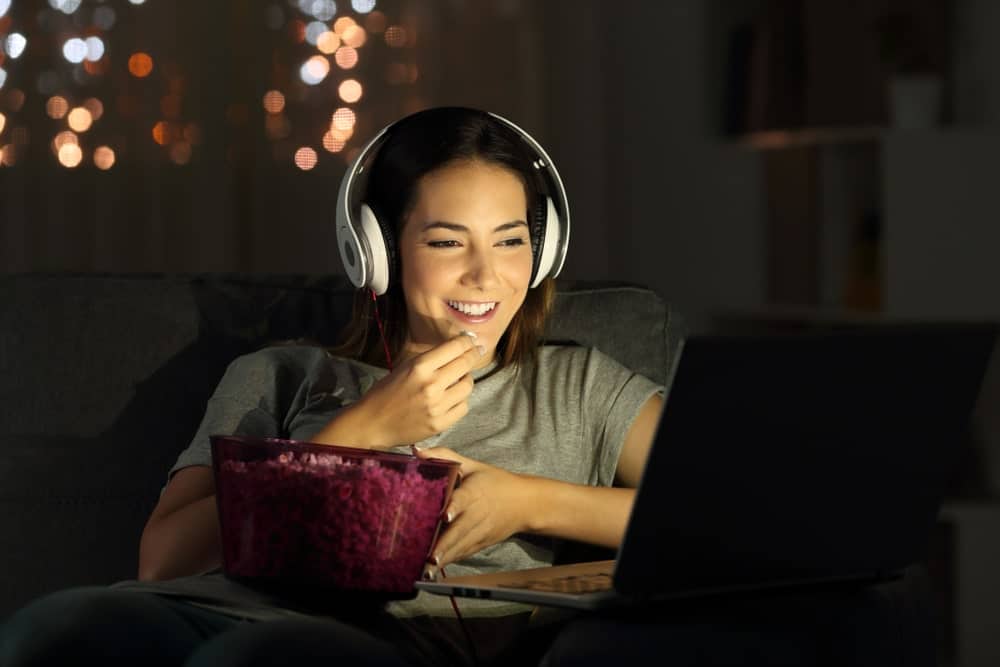 Does staying at home and watching movies sound like a dream way to raise money virtually? Well, these days it's a reality.
Teleparty allows you to create virtual movie nights using streaming sites like Netflix. After downloading the software, you add the Chrome extension to your browser's toolbar. Then simply pick a movie and create a party which people can join to watch in sync with you. You even get a live chat box!
Films directly related to your cause make for great fundraising events, as they can help you create meaningful discussions about your charity's goals. Plus, you can also host virtual movie nights for holidays like Halloween, or just for fun!
7. Virtual Book Club
Calling all bookworms! Have you ever thought about starting a virtual book club?
Pick a book, invite your members to read it and schedule an online discussion about it afterwards. If the book can be related to your charity's work, then you're onto a real winner. However, if you can reach out to the author and get them to support your fundraising event too, then you've absolutely nailed it!
8. Indoor Challenges
Thanks to social media, the viral reach of challenges are huge and represent a low cost, high reward way to raise money virtually. Remember the ASL ice bucket challenge? The money raised helped discover a new gene associated with the disease.
Here's how to organise the fundraiser in 4 easy steps:
Set a challenge e.g. no makeup selfies
Donate
Post on social media
Nominate your friends to do the same.
Also, make sure you create a hashtag to track your campaign!
9. Online Q&A Session
Hosting a Q&A is a great, inexpensive way to raise money virtually, whilst raising widespread awareness for your charity's work. Set up a live stream that allows participants to ask questions and take the time to answer them in detail.
There's a lot of flexibility for events here. For instance, if you work closely with businesses, consider hosting a roundtable with industry experts or lean into pop-culture by finding a celebrity who doesn't mind getting a grilling from their fans. Think outside the box!
Create Unmissable Fundraising Events
As virtual events become more commonplace, finding ways to engage people will become harder. To keep people excited, consider combining one or more of these ideas together to create truly unmissable events.
For instance, virtual quiz events with KwizzBit can be themed around a movie night to add an interactive element that allows you to find the biggest film buff. Or, if you're hosting a virtual class, a quiz can help them remember their lessons better. Get creative!
Wanting to host your own virtual quiz event? Learn more about how KwizzBit can help charities meet their goals or check out our guide to running a virtual quiz.