Cloud Based Quizzing
Cutting-edge online software allows you to host and play quizzes using any smart device with people from anywhere in the world. Whether you're all together in one location or playing a virtual quiz in separate ones.
UnGoogleable Gameplay
Speed-based quizzing means the faster you answer, the more points you get. It's literally impossible to cheat and win.
Automatic Scoring
Saves heaps of time swapping and marking answer sheets, as all scores are updated in real time after every question.
Leaderboards
Live in-game leaderboards bring out the competitive side to quizzing, as you can see how your position changes per question. National leaderboards let you compare how you scores against other players across the world.
Unlimited Access
Jump into KwizzBit's library of thousands of readymade quizzes and fill your boots.
New content covering pretty much every topic imaginable is added weekly.
Find out more about how KwizzBit could work for you
Pubs
Spice up your regular quiz nights
Businesses
Team building, staff training or corporate events
Fundraisers
Host fundraising events for your charity, school or society
Enjoy online, interactive quizzing with friends and family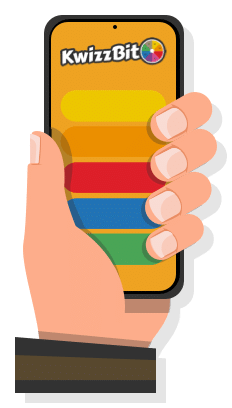 1. Host a game
Choose from 100's of top topics, there's something for everyone
2. Invite players
Share the KwizzPIN for your game with your friends, it couldn't be easier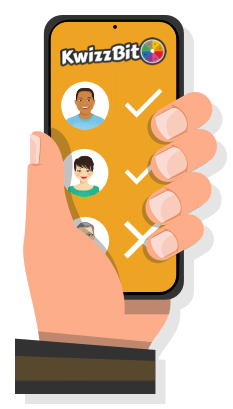 3. Get quizzing!
Wait for your friends to join and be the host of your own gameshow!
Do I need a KwizzBit account to play?
Although you don't need a KwizzBit account to play, it's free to sign up and means you can enjoy a range of features and benefits:
Access our NATIONAL LEADERBOARDS
Access our FREE demo host game
Subscribe to one of our awesome HOST PACKAGES
Are you itching to host a quiz on a topic that's not in the system? Do you need an engaging way to educate your staff on a new corporate policy? Would a personalised quiz go down a treat to celebrate your best friend's birthday?
Whatever you need a quiz for, we can help create it.