Creating your own quiz with our online quiz creator is ridiculously easy. Here we'll show you how in 5 simple steps, as well as give you 10 of the most popular reasons to write your own trivia content.
Master our online quiz creator
1. Locate the Quiz builder
From your account dashboard, open the burger menu in the top right-hand corner and select 'Quiz Builder'.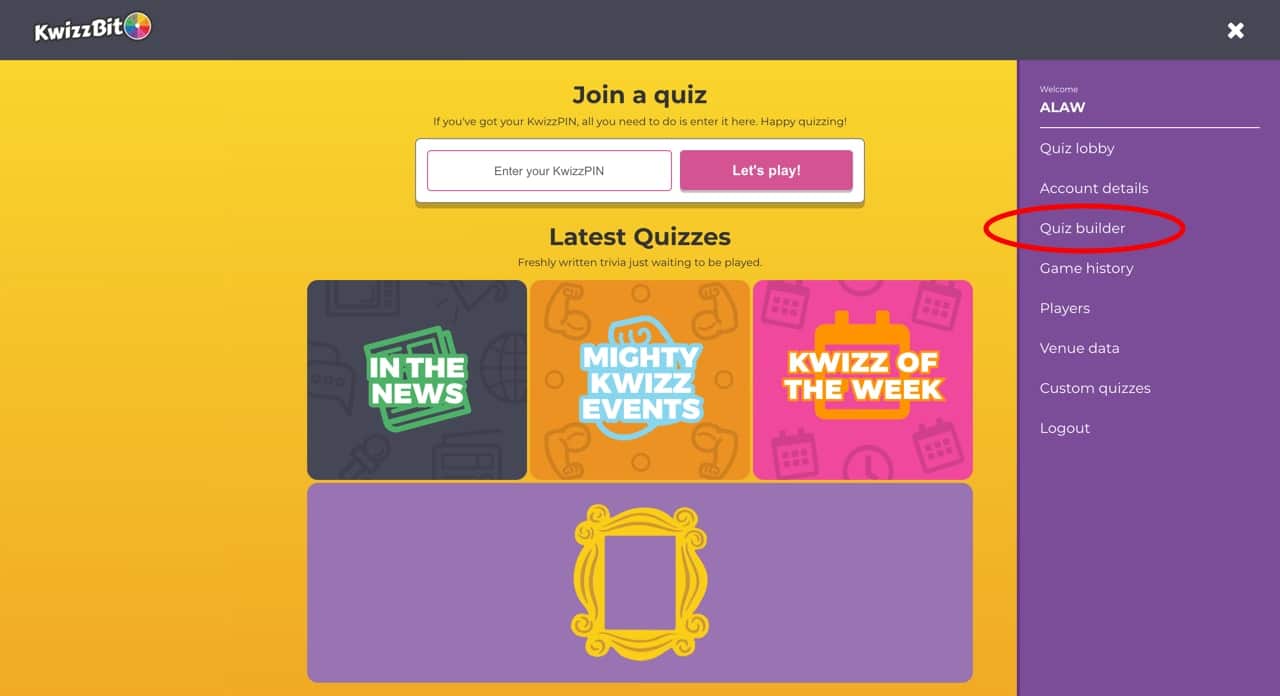 Creating your own quiz is only available for subscribed users on all packages except Home. If you don't have access, you will need to upgrade to at least the Home+ package.
2. Create your own quiz
All your personalized quizzes will be listed in this page. Here you'll have the ability to edit, delete, search for and sort by created date. Above all though, you'll have the ability to build a quiz.

To do so, click 'Create' and give it a name.
3. Create quiz questions
Add your first question by clicking the plus symbol.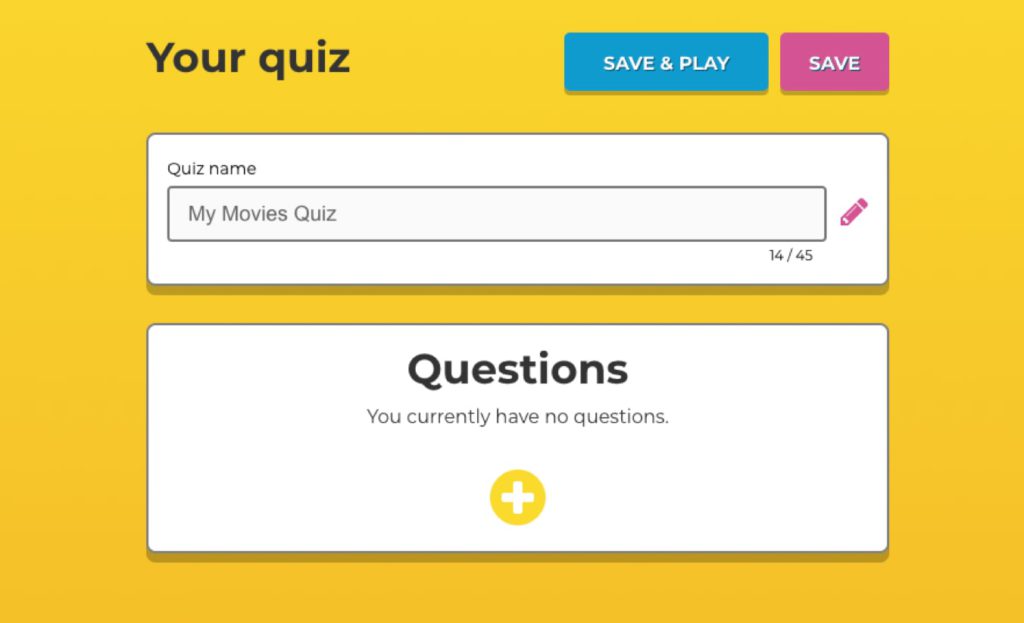 Next, enter your question and select a question type. This will define how you enter your answer options. The question types are:
1 from 4 – Multiple choice question where a player must select one correct answer from a possible four options.
Picture – The same as above but an image is uploaded alongside the question.
Numeric – A keypad question where the answer is a whole number. A tolerance can be added here to award points for close answers.
2 from 4 – Two correct answers must be specified.
Correct Order – All options must be selected in the right order.
Before submitting the question, you can also enter a KwizzFact. This is an interesting bit of trivia you can use to wow your quizzers once the answers have been revealed to them. You can also decide to make a question 'evil'. By doing so any player who gets this question wrong will instantly lose 100 points. Pantomime noises.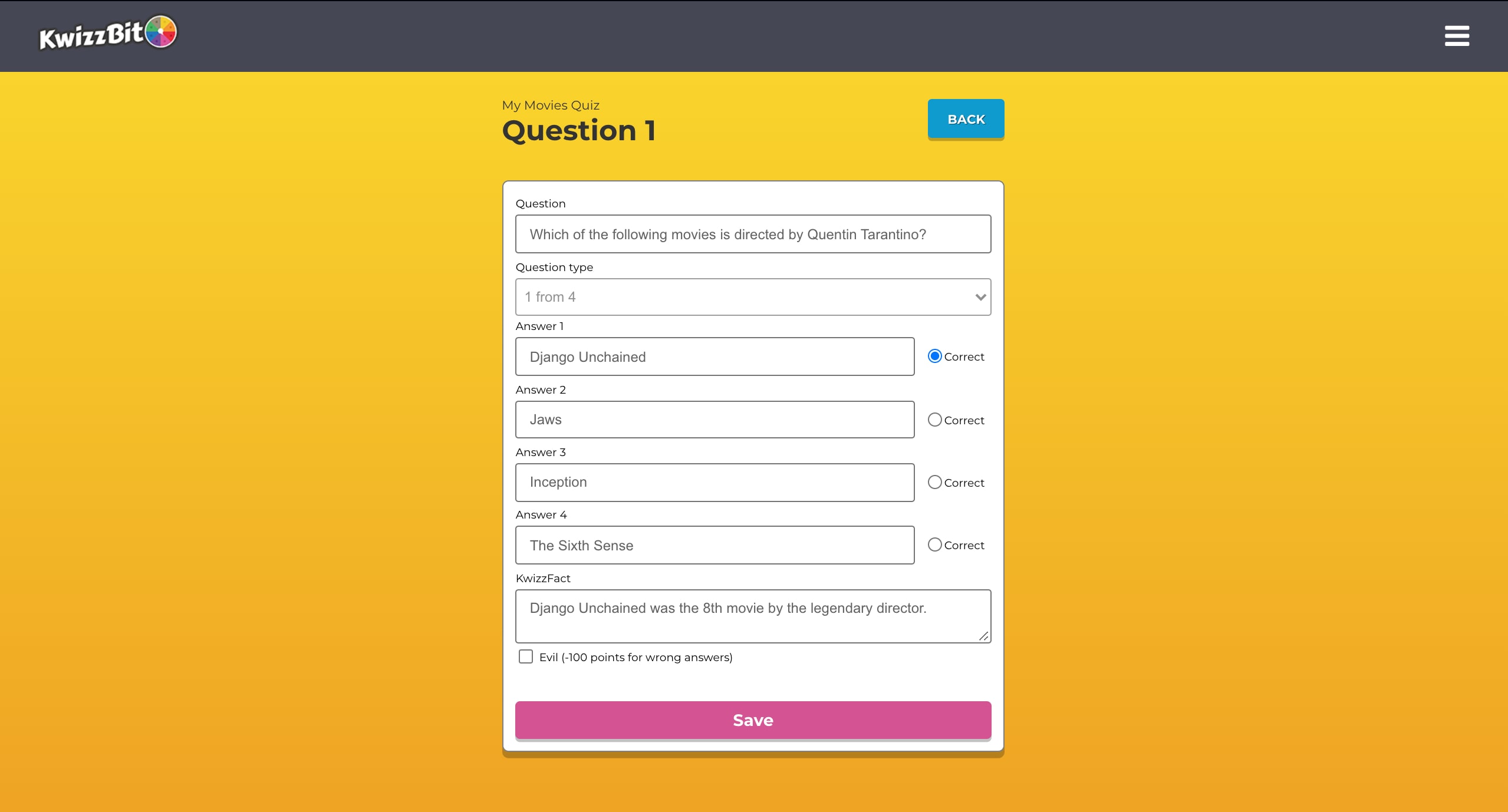 Now click 'Save'.
4. Repeat
Keep doing this until you're happy with your quiz. Easy, right?
There are no limits to the number of questions you can have in a quiz. Nor are there any limits to the number of quizzes you can make… so go wild!
5. Get quizzing
By clicking 'Save & Play' from within your quiz editor, the system will automatically generate your game lobby and unique play pin for players to join. Check out our video walkthroughs for more information on hosting and playing. If you're not ready to play immediately, you can find your quizzes in the 'My Kwizzes' tile on your account dashboard at any time.
Now you know how to build a quiz, keep reading to find some inspiring ways to utilise personalised trivia.
Popular ways to use the online quiz creator
1. Staff training
Create quiz questions that reflect the information your employees need to know, especially the boring stuff as interactive quizzes can improve focus, memory and engagement in training sessions.
2. Presentations
Don't let your meetings and presentations become death-by-PowerPoint sessions. Our collective attention spans are already short enough. Give your audience a reason to keep listening!
3. Work socials
Get your hard-working employees together, virtually or in-person, and unleash their competitive side with a trivia night. Try creating quiz questions around your team's interests outside of work.
4. School teaching
Thanks to the internet and Tik Tok, kids are always glued to their phones which presents a constant challenge for teachers. Try building a quiz around a topic or subject to create fun, engaging end-of-lesson activities!
5. Events
Round off your events with an interactive quiz. It doesn't matter if it's virtual, physical or a mix of both, KwizzBit is a great way to add a fun interactive element into any experience.
6. Pub quiz
Running a successful pub quiz is no easy task in the 21st century, however, creating quiz questions you know your locals will enjoy is a good way.
7. Fundraising
If you raise money for schools, societies or charities close to your heart, then creating your own quiz can help you raise awareness for your cause.
8. Your next Zoom quiz
Keep virtual quizzing exciting by creating your own quiz. There are tons of imaginative question ideas that will let you create a personalized quiz experience for your friends and family.
9. Birthday Parties
Celebrating a birthday soon? Why don't you build a quiz all about the birthday boy/girl? Don't forget to upload childhood photos, embarrassing tagged photos and social media screenshots from 2009 for maximum fun.
10. Weddings
Are you the Best Man or Chief Bridesmaid? Utilise our online quiz creator to make a laugh out loud funny bride and groom quiz. Just don't enter anything that might lead to a sudden divorce.   Feeling inspired? Think you're ready to create your own quiz? Login or create your account to build your quiz today.